As a dungeon master who enjoys improvisation, I don't spend much time preparing for each session. Unfortunately, that often leaves me in a position to make up names for things on the spot. While I am fairly good at making up the names of NPCs, I struggle when it comes to inns, taverns, cities, book titles, pirate ships, or even menus at a pub. I started making lists of these things just so I could easily refer to them in a pinch. That eventually led to me creating some random generators for the names of items that give me the most trouble during improvisation.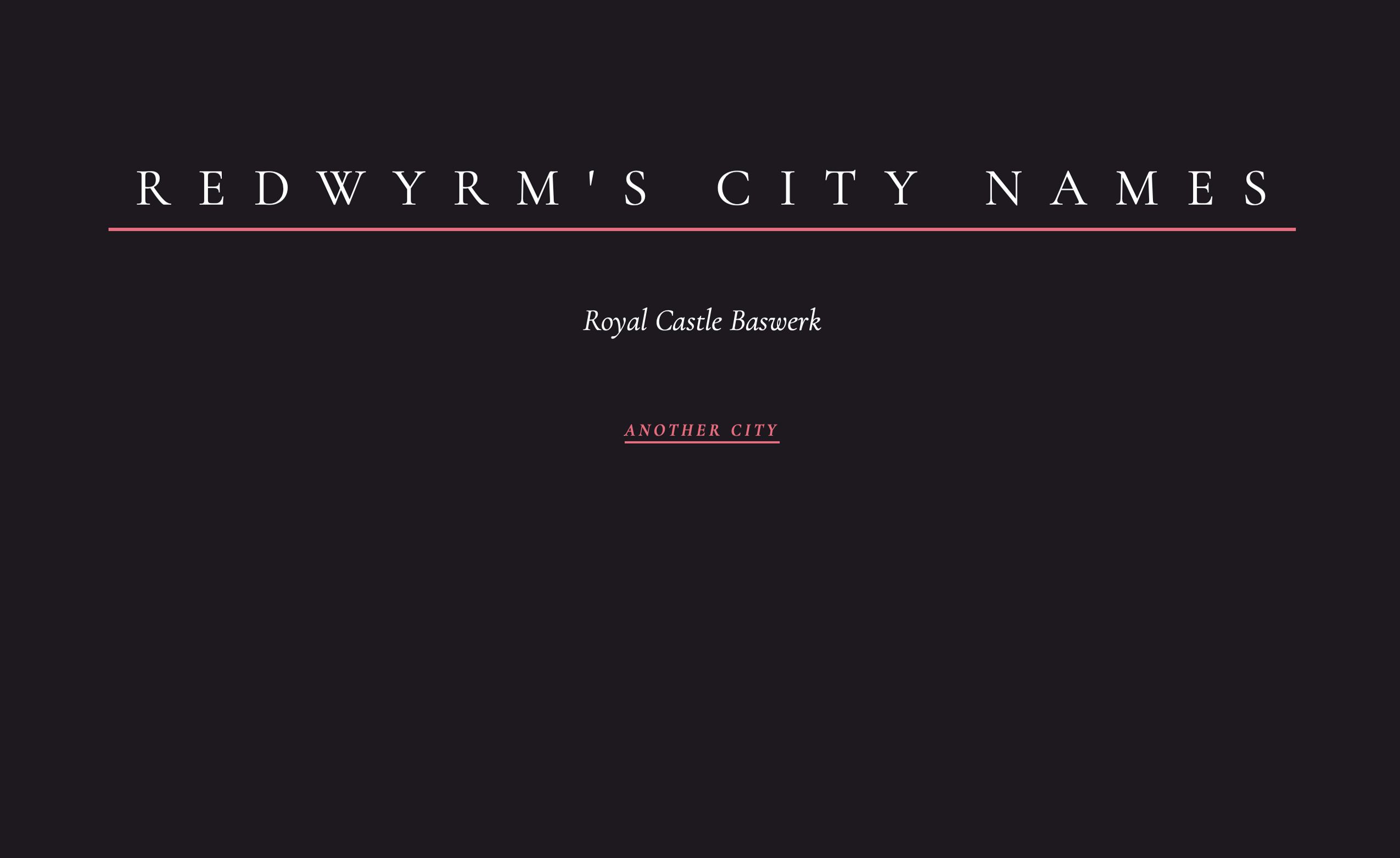 Towns and Cities: 
In my current home-brew campaign setting, the main country is based on the British Isles, so I made a list of towns from England, Scotland, and Ireland, threw in a few of my own town names, and added some occasional descriptors such as Old, Royal, New, or East. This gave me a wonderful list of names that can be randomly generated that fit perfectly within my setting. Welcome to Royal Kilenworth just down the road from Old Castlebar. 
https://perchance.org/redwyrmscitynames
Book Titles: 
I love to include a library or a mage's study in my game, but my players will almost assuredly ask what books they find on the shelves. I almost always draw a blank and start fumbling around trying to come up with something interesting. I created a list of titles based off historical and fictional books that I can easily grab as soon as my players ask what they find. 
https://perchance.org/redwyrmslibrary 
Pirate Ships: 
A good name for a pirate ship or sailing vessel can really set the tone in your game. The captain's name is also critical to giving your game a certain mood. If you are running a seafaring game, you probably will come up with a good list of names that are very specific to your game, but if your players just happen to wander down to the docks and end up at a sailor's bar or on a ship, it is good to have something to help you create the right mood for your ships. I created this random generator to blend some historical pirate names and create some interesting captain nicknames. It also uses a lot of historical ship names that can be blended together to create a whole variety of combinations. The Silver Fortune or The Royal Rose sailed by Captain Henry "Steel Boots" Moody. 
https://perchance.org/redwyrmssailingships 
Poisons: 
I know practically nothing about poisons. When one of my players decided to play an urban druid, I thought that a good list of poisons might come in handy during the adventure. The various poisons in the game are a bit vague for my taste, so I created my own list of poisons including the effects of each one. It seemed like another great opportunity for a random generator so I created Redwyrm's Poisoner's Kit. 
https://perchance.org/redwyrmspoisonerskit 
Spell Components: 
Off the top of my head, I know a handful of material components needed for various spells, but by no means can I remember more than a few in a game when my players ask what is in the pouch of the evil cleric they just defeated or on the shelves of the mage's laboratory. This random generator comes up with components from three different spells. It is pretty easy to generate a new set of components so you can easily pick the ones you want. 
https://perchance.org/redwyrmsspellcomponents 
Tavern Menu: 
Hungry? My players and their characters are always wanting food. In my games, it seems that every tavern or inn serves beef stew and fried potatoes along with some bread and cheese. In order to branch out from those basics, I created a random menu generator that serves up a variety of tasty meals. How does Pumpkin Pottage with Primrose and Barley sound? How about Fried Umbels with Rye Muffins? There are endless possibilities with this generator and it even includes drinks such as Mama's Pale Porter or Starflower Brandy. And of course we can't forget about dessert... interested in some Braised Pears with a Raspberry Custard? 
https://perchance.org/redwyrmstavernmenu 
Also, if the players wander into an area where monster meat might be on the menu, I created a Monster Edition of this generator. Hungry for some Roasted Purple Worm or Stirge Stew? Be aware that some of the menu items on this list might be unethical to eat. 
https://perchance.org/redwyrmstavernmenu2 
Wild Magic:
There are plenty of great tables for wild magic effects, both official and unofficial. But when I want a wild magic effect quickly I just open up this random generator and see what happens. There are 130 different effects that can occur on this table and I am constantly adding tonic as I find new effects that I like. 
https://perchance.org/redwyrmswildmagic
City Street: 
The characters walk down a street and see numerous shops and taverns. Undoubtably, my players will ask me what shops their characters see. I created this random generator to solve this problem. It has names of different types of shops and places of business... from jewelry stores to blacksmith shops... from bakeries to butchers. 
https://perchance.org/redwyrmscitystreet 
Personality Traits: 
Creating some NPCs on the fly? Want to give them some personality traits? I really like this list from Patrick Gunkel of personality traits that are divided into positive, neutral, and negative: http://ideonomy.mit.edu/essays/traits.html It was such a good resource for my games that I turned it into a random generator to pick one characteristic from each list to help me create an NPC. Sometimes it takes a little creative thinking to use all three in the same character... how can one guy be both gentle and abrasive? But it often encourages some interesting creative thinking about NPCs and gives them a little more depth. 
https://perchance.org/npcpersonalitytraits 
Dungeon Master Tips: 
Are you looking for some tips to improve your dungeon mastering?  This random generator has over 100 tips that I have come up with after more than 30 years of sitting behind the screen. During that time I have used ability score increases to bring my DM wisdom score from an 7 to a 9, so be prepared to bask in the wonder of these tips.